Explore the full range of bestselling relationship books from Terry Real. Each contains practical tips and moving stories from Terry's own clients to help you unlock the power of relational skills for more connected, meaningful relationships—with your partner and yourself.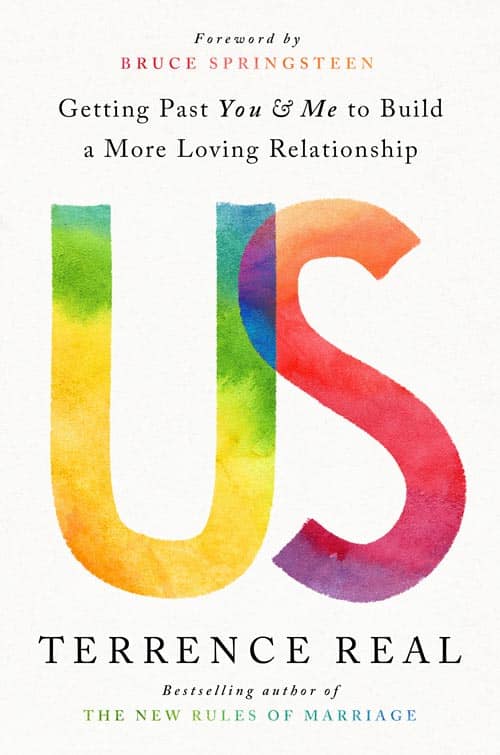 Us: Getting Past You and Me to Build a More Loving Relationship
"When I need advice, I call Terry Real. His decades of clinical experience, research, and wisdom are invaluable to my patients, colleagues and friends. Us brings his advice to life. It is the book that we all need to read to create more thriving and intimate connections." – Esther Perel, Psychotherapist and New York Times bestselling author
Stop working on yourself as an individual and start working on your relationship as a couple. Us is a groundbreaking guide to a new science-backed skillset—one that will allow you to get past your knee-jerk reactions and tap into your wiser, more collaborative self. In this book, Terry shares the stories of couples whose relationships have been saved by these skills and pan out to the culture that reinforces our dysfunction.
If you and your partner are backed into separate corners of "you" and "me," this book will show the way back to "us." With Us, your true relationship can begin.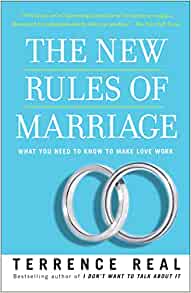 The New Rules of Marriage: What You Need to Know to Make Love Work
"An amazing guide to developing powerful relational skills. It is served up with great wit and a keen sense of humor-a great read." – Pia Mellody, author of Facing Love Addiction and The Intimacy Factor
The New Rules of Marriage shows couples how to master the new rules of twenty-first-century marriage by offering them a set of effective tools with which they can create the truly intimate relationship they desire and deserve.
Terry shares five non-starters to avoid and practical strategies for bringing honesty, passion, and joy back to even the most difficult relationship. Drawing from his decades of experience helping thousands of couples shift from despair to profound emotional closeness, The New Rules of Marriage guides you through the process of relationship repair with exercises that you can do alone or with your partner.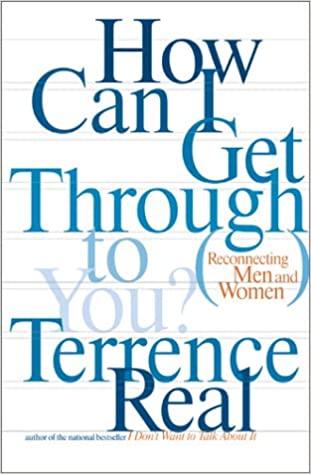 How Can I Get Through to You?: Reconnecting Men and Women
If you're asking questions like "What happened to the passion we started with?" and "Why aren't we as close as we used to be?" this book offers a solution. 
How Can I Get Through to You? explores the causes of communication blocks between men and women. Relationships are in trouble; the demand for intimacy today must be met with new skills, and—drawing on his pioneering work on male depression—Terry gives both men and women those skills, empowering women and connecting men, radically reversing the attitudes and emotional stumbling blocks of the patriarchal culture in which we were raised.
Filled with powerful stories of couples from Terry's private practice, this relationship book is straight-talking and innovative in its approach to healing wounds and reconnecting partners with a new strength and understanding.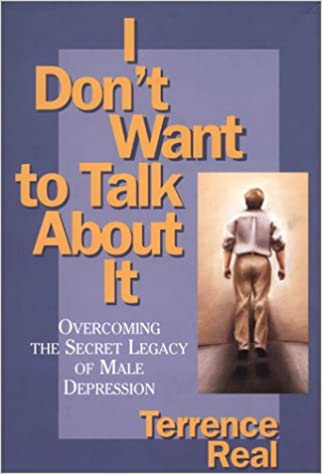 I Don't Want to Talk About: Overcoming the Secret Legacy of Male Depression
A bestseller for over 20 years, I Don't Want to Talk About It, is a groundbreaking and hopeful guide to understanding and destigmatizing male depression, essential not only for men who may be suffering but for the people who love them.
Depression is a silent epidemic in men—they hide their condition from family, friends, and themselves to avoid the stigma of depression's "un-manliness." Problems that we think of as typically male—difficulty with intimacy, workaholism, alcoholism, abusive behavior, and rage—are really attempts to escape depression. 
This book is the "pathway out of darkness" that these men and their families seek. In it, Terry reveals how men can unearth their pain, heal themselves, restore relationships, and break the legacy of abuse.